As a pioneer in fields where nutrition means daily healthcare, prevention, and therapy, AstaReal is pursuing a wide variety of activities based on nutrition science and biotechnology related to the functional micronutrient "astaxanthin." We strive to push forward a new healthcare paradigm where people can practice everyday health management and prevention.
With the advancement of modern medicine and medical technologies, many diseases, including infectious diseases that posed a major threat to people's lives and society, have now been almost overcome and we are entering an era where people can live longer than previously imagined. On the other hand, this advancement poses new challenges around the world. The increasing risks of lifestyle diseases and geriatric syndromes, such as diabetes and dementia, are becoming new concerns. This has also become a social issue since it leads to increased medical expenses, and we have yet to find a solution. With the continued rapid advancement of modern medicine and medical technologies, why is it still so difficult to resolve these issues? The problem has to do with the fact that the risks for lifestyle diseases lurk within people's everyday lives, which makes these risks all too familiar. Traditional methodologies in medicine and medical technologies focus on treating diseases with new drugs and surgical techniques. These new drugs and surgical techniques can also have side effects, and using them is a bit like "treating poison with poison." However, these traditional methodologies cannot provide a comprehensive solution for the early stage of lifestyle diseases, or geriatric syndromes and their prevention. Instead, methods for removing all of the risks related to lifestyle habits have been proposed academically in a variety of studies. For example, in early diabetes you are advised to consume a balanced moderate diet, exercise appropriately, ensure adequate sleep and live a stress-free life. But, given how busy our daily lives are in reality, these suggestions are not easy to stay committed to. How can we practice a lifestyle that we desire and live each day true to ourselves? This is the question that AstaReal's proposition is aiming to solve.

In 1995, I encountered a functional micronutrient called "astaxanthin." At the time the development of the new drug I was working on appeared almost certain to fail and I was unsure about my company's path forward. The development of this new drug had consumed all my energy for close to 10 years, however, in time it became clear that there were too many obstacles between me and what I wanted to accomplish. Therefore, I was faced with a fair degree of uncertainty about the next step to take in order to achieve my company's mission in society. Faced with this dilemma, I finally reached the conclusion that "prevention" was a social issue that still persisted. Prevention and the ideas that surround it would go on to become very pertinent, but at the time there was much work to be done to get us to the point we are currently at. So with that, I decided to direct my attention to prevention and explore the concept further. But, in order to do that I had to address the following: What is "prevention"? And, what do you need to practice it? It was questions like these that I began to pursue more thoroughly. Of course, even at that point the idea of prevention was pervasive, but there was no social consensus regarding the concept of it and its methods. With that issue in mind, I consulted with various specialists in medicine, medical care, physiology, and even marine biology. This led me to research a number of compounds and screen natural products from different regions, including countries like Japan and China. This journey finally led me to astaxanthin. Astaxanthin is a natural micronutrient that has unique antioxidant and anti-inflammatory properties, as well as a long history of consumption in the food chain, which ensures its safety. I had a flash of inspiration, a conviction almost, that this substance was possibly the ultimate biological defense. It was exactly what I was looking for when I first started to look into prevention, and this was also the very moment that inspired me to start this business.

In the more than 20 years since then, AstaReal has led research in fields related to astaxanthin, and I am proud of the scientific evidence that we have built up. As the research progresses, the essence of astaxanthin's potential is being revealed. According to the latest research, astaxanthin is stored in cell membranes, especially those of skeletal muscles, and it has become clear that it protects and/or improves mitochondrial functions that are reduced through aging, pathological processes or sports performance. Moreover, no serious side effects have been reported. This all indicates that astaxanthin can play an important role in new health management and prevention. In fact, multiple sets of clinical data show that astaxanthin has an anti-fatigue effect, alleviating the mental and physical fatigue of everyday life. It can also be used for improving/preventing sarcopenia, where muscle functions decrease through the aging process. It can be used in the prevention of diabetes as well. It is now known that maintaining the function of muscles and mitochondria is important in the prevention of lifestyle diseases and in inhibiting a decline of physical functions while aging. Even though it shows potentials for use in health management, prevention and/or therapy, astaxanthin is not a panacea or a magic elixir. By taking astaxanthin with healthy lifestyle habits such as appropriate exercise, a well-balanced diet and sufficient sleep, the combined beneficial effects can be felt for much longer. Furthermore, a healthy lifestyle like that would provide a reason to live longer and become a set of positive lifestyle choices. I believe this will be healthcare's new paradigm.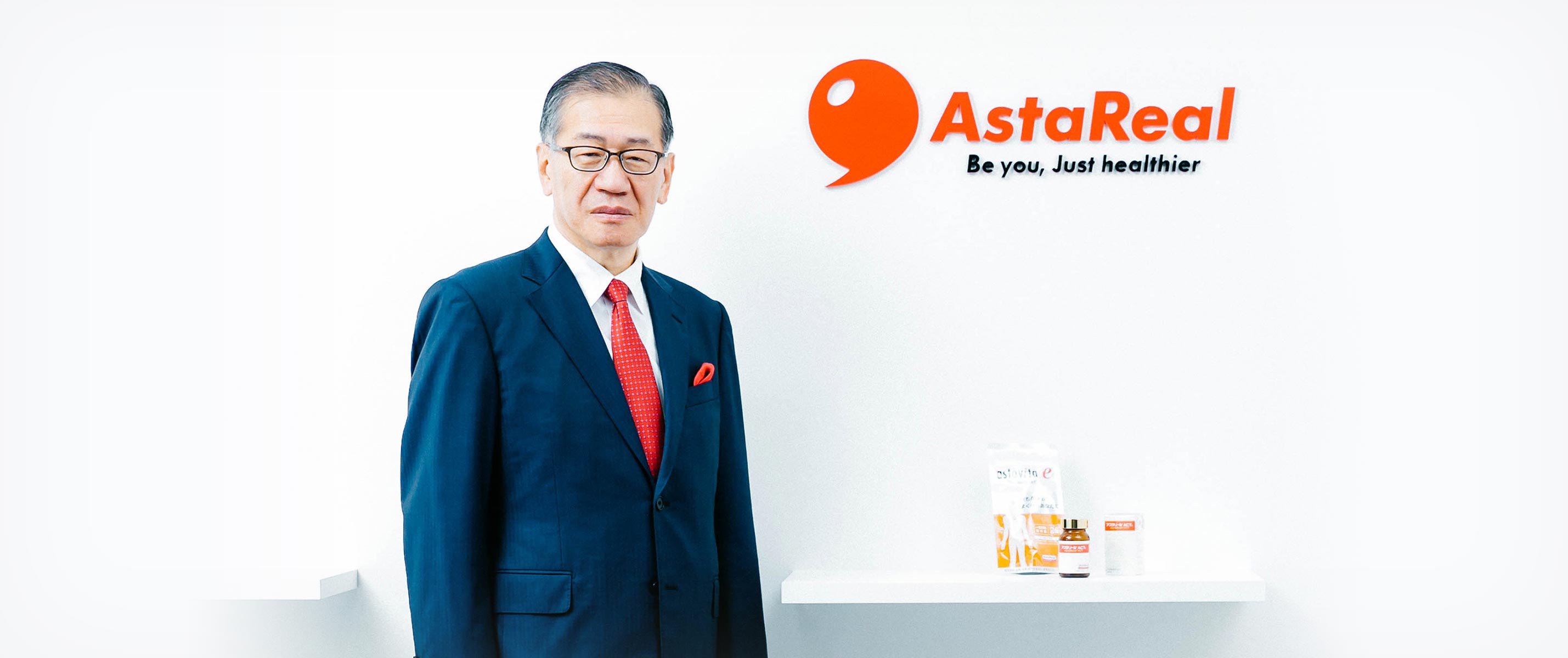 AstaReal endeavors to advance this new paradigm through two routes. The first is to expand our retail business, where we ourselves deliver functional astaxanthin products directly to users who want advanced, high-performance astaxanthin. Based on the results of a variety of advanced nutrition science research we will pursue with consumers and medical practitioners ways in which we can utilize astaxanthin to achieve practical day-to-day health management and pre-emptive medical care. In addition to this, we are going to drive business to provide astaxanthin materials, together with data and expertise, to our partner supplement and functional food manufacturers in order to broaden the utilization and popularity of astaxanthin. In fields of functional and medicinal foods, we are planning to proactively collaborate with companies that are skilled in distribution and marketing.
AstaReal's efforts are still only halfway towards realizing a new healthcare paradigm that encompasses daily health management, prevention and therapy. As a pioneer of astaxanthin that aims to advance new healthcare through nutrition science, AstaReal will continue to work toward a society where people around the world can enjoy a long and healthy life.
Founder: Mitsunori Nishida